What SiteBuildIt Can Give.
This page is focused on SiteBuildIt the website host that offers more than any other regular website host. I realize that I have another page that talks mainly on why to choose this website host.
But this content page will explain to you SiteBuildIt in much more fine detail and why signing up with them will substantially benefit your website.
Lets start with SBI's free e-book gift to you.

Click here to start reading your free WAHM Masters Course today. If you want to print a copy and review the e-book offline, right-click and "save as" to download it.
If you have read the e-book (it's a long read) it is about working at home mom's who have created an e-business through SBI and it explains to you how they did it.. the process of SiteBuildIt etc.
So I am guessing that maybe you are more curious to know what kind of tools SBI is going to offer.
I have written a brief list on some of the tools and resources sitebuildit offer to anyone who buy's.
But I had to include this video as I love it, watch this video and if this alone persuades you enough to go with SBI then click the video.. If not, don't go away you still must read the list of tools and what they do.
Further down there is a more fine detailed description on the most profitable website building tools that they give and also valuable information regarding their money back guarantee.
So, What more do SiteBuildIt Offer? A lot more.
SBI offer you all of this plus more...
A free domain name
Mailout managers
Content 2.0 Invitations - Invites for your visits to comment on your pages (Excellent way to create even more content.)
Reliable Hosting
Autoresponder
Links Libraries - Link Trackers
The tools above, Brainstormit!, AnalyzeIt!, SBI Forums
The Traffic Center
Stacks of Articles on everything and anything to do with website building and earning money resouces.
Preselling and promotion advice
One on one coaching service (If you really need it.)
Resource HQ - Lots of Resources from other products that give special deals to SBI'ers ONLY.
Free Css web Templates - Saves you designing.
Block by block website builder - If you don't know HTML, not a problem SBI offer a basic webbuilder for those who are not so computer savvy.
10 day step-by-step video guide.
Download Manager for you to add your own special files to your website - E-books, personal videos etc.
SearchIt! - your very own content finding search engine.
FindIt! - If your looking for something in particular on SBI type it in and you will receive any information regarding what you typed in.
I could go on and there is much more than that but I think I have made my point in showing you what SiteBuildIt can offer you.
The Most Profitable Tools of SiteBuildIt.
BrainStormIt
!.. BrainstormIt is a new way to research a website niche and keywords of your website. For the most profitable niche and the one with more variety, this tool alone is worth the whole amount you pay for SBI. But they are Generous and give you a whole lot more. Keep reading...Next up
AnaylzeIt!
.. Now I know many of you do not know a lot about SEO as I have had hundreds of visits to my SEO pages everyday. So what Analyze it does is...
It does all that head banging search engine optimization for you all you do is upload your pages and files click the "Analyze It!" button and you have it all there for you it tells you if everything is correct or what exactly has to be done for it to be correct.
Example how many more specific keywords you need to add to that page or if your meta tags are incorrect it tells you how to fix them. This is so helpful and makes search engine page ranking easier.
SBI Forums..
This is extremely helpful they have related posts about every single thing you need from building to earning, how to increase google adsense earnings, promotion ideas, guidance on SBI tools, finding your niche, choosing your domain and much, much more.
SearchIt!..
SearchIt has everything you need related to content if you need some more information to add to your website you select content in the drop down and type in your keywords. It will bring back thousands of websites that could help you create some content, it also does the same with images, videos and even audio.
TrafficCenter..
One of my favorite things about SBI is there traffic center. What the traffic center does first it does many things. It shows you how many visitors you have daily but most traffic centers do that anyway.
This one does even more...It tells you where your site ranks for its keywords it submits a sitemap file to the major search engines everytime you upload a new page..
It helps you build your own quality links program for off page criteria to help you rank even higher with the engines!
It analyzes what countries people that visit your website are viewing from. If you have any images on your website it tells you how many times people have searched them through image search... The traffic center is trully remarkable and it should be one of the reasons alone why you would want to purchase SBI.
Their is actually a load more tools that I could go on explaining but I think I have covered most of it in the first list. Now you know that they give you a whole suite of tools and much guidance it is more than enough.
Click here to go directly to SiteBuildIt.
They also have a money back guarantee.
I know that having a money back guarantee can leave people feeling a lot more confident and it makes it easier for them to purchase a product knowing that they can get their money back if their not satisfied.
If three hundred dollars is too much for your budget then sitebuildit also offer a monthly payment option which is available for a limited amount of time.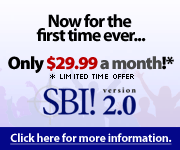 The great thing is that you can try SBI for one month and if it's not for you then you can even claim your money back if you only signed up to the monthly payment option. It's a win-win situation.
Ken Evoy (Director of SBI) is an honest man and SBI will for sure give you a money back guarantee so no need to worry about that part. They will not jeapordise their business for that amount of money.. Just to ease your mind, so now you know that you will receive your money back - So it's no harm done if you don't like SBI.
I must mention that their money back guarantee is only available within the first 30 days and if you exceed that time limit you will not get it back! So remember, if you want to claim your money back then you must do it before exceeding the 30 days given.
What other SBI'ers Have Said.
I also asked two other SBI'ers why they decided to buy the product and their answers were. I asked why did they buy SBI and why they didn't purchase a cheaper host?
Lori from www.cross-stick-project-directory.com said.
When I first started with SBI, I had no idea what I was buying or that there were any other lower cost alternatives. Since I have owned SBI, I have learned about the other options, and realize I got a GREAT deal! I have told other people that think they can't build a website, that with SBI they can build a website and earn an income, that in my opinion is the real difference. The low cost options end up costing so much more in the end, because even if you don't understand all that SBI offers in the beginning, you will want to add to your website, but you have to pay for every little thing, and that adds up real fast.
Daniel said... (Daniel had not started building his website yet..)
Hey Jake, I've just exited high school scavenging everywhere for a decent job. It's incredibly difficult to find a substantial part-time with no prior experience. I knew of Google Adsense and content based websites that build consistent revenue, but if I were to simply buy a domain, the demographic would only consist of a few friends whom I tell it exists and it would make very little profit. I knew there would have to be a lot of programming and scripting knowledge to back me up with my own website, so I shoved the idea aside for years and years. Just four days ago, I stumbled upon SiteBuildIt and laughed that such an idea could work, but it captivated me to the point where I thought I'd research its background. Baffled I could not find a spec of dirt on it. The key reason I bought SiteBuildIt was its wonderful mature reputation--and I'm glad I did. The Action Guide and tools are spectacular. I haven't even begun building, but SiteBuildIt is a backbone if I've ever seen one. Daniel
The reason why I chose these two answers was because they were the most inspiring to me.. I hope they are for you.
One more thing that I must mention and it is said in Daniel's comments, that if you search the internet on SBI you will find that there is not one spec of dirt on them.
If you Want to learn more about SBI... Click here