Sell Your Content.
To build a successful content based website you need to know how to sell your content.
This page will explain to you everything you need to know from choosing a niche to building your content. It is all here, explaining how to plan your content, what your readers want and of course selling your content.
If you do not sell your content or you don't have enough of it then there is no point in building a content based website, people of this day and age are always looking for new valuable information that can benefit them in their everyday life.
Everyone is willing to learn more about anything and everything. If you possess a skill, talent or valuable information about anything then I suggest you start selling it.
Choosing a Niche
Before we start selling, we need to know what we are selling. Which means we need to have chosen our niche.
For example what we are going to write about, to start any website you need the perfect niche(topic).
To be sure you have chosen the perfect niche. Read this page for help on choosing a niche.
What is Sell Your Content?
Being able to sell your content means that you can reel in your traffic with good valuable content that is on your web pages.
Everyone has some sort of information stored inside of them you just have to let it out.
If you want to start selling your content and creating new unique content, then the following things must have already been done.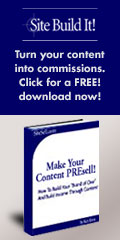 You need to have chosen your niche, picked your website host, your website editor and registered your domain name.
For a starter guide on how to sell your content you should read this book written by Ken Evoy.
A really amazing e-book from the director of SBI. Click the image on the left to go to an SBI page where you can download "Make your content presell".
One of the many resources that SiteBuildIt provides you with, Which is being offered out for FREE.
After I read this e-book, I started to realise what can be accomplished and acheived with just words and creating content.
Planning and Building Website Content.
Selling your content is very easy and not a difficult task, But some people can find it that difficult they end up giving up on building their website.
Why do they find it so difficult? Because there was no planning involved...
They may have selected a domain name and picked a perfect niche and figured that they had enough information to write about.
But really they DID NOT have any content and were not set out to write enough pages...
They should of planned what they were going to write about... No planning leads to a poor website with bad content and guess what?
Search engines and people do not favor bad content!
Planning can save hours of time in the future, having a plan and sticking to it will help you become more successful and save you a lot of time. It also can make writing content a lot easier.
Plus it will build your website some credibility if your content is good enough.
Imagine that building your website is a job, your a sales person and your boss is your website, "He/She" gives you a schedule and you have to keep to it.
If you do not sell your content and stick to your schedule you will lose your job and you won't get paid. Thats exactly how it should be.
To be sure you are planning website content. You should know which pages are going to placed on the navigation bar and what they are all going to be about.
You should also know what pages are going to be linked from the home page which will also be linked from other pages and what they are all going to be about.