How To Build A Website.
Here is the step-by-step guide on how to build a website...
You will find information on registering your domain name, picking a website host, choosing your website builder and more.
But, before you read these steps, I want you to know, that you shouldn't rush and try to complete everything on here in just one night.
It is impossible to create a website and have a reasonably good amount of traffic within one night or one week.
It takes a few months to build a website that starts to generate a substantial amount of traffic.
Plan and be patient.
Be sure to plan by choosing your hosts and programs wisely. Pick the right topic and have your content ready to be written, so you are prepared and will know how to build a website.
There is a lot of information on this page for you to take in all at once, but it is information that is needed to be learned, so you can find out how to build a website successfully.
You do not have to do everything right this second. Do some today and some tomorrow or in whatever pace you feel is best for you.
It is always better to go at your own pace when making these tough decisions.
The first Step Registering a Domain Name
The first thing you need is a domain name... a domain name is what you will be calling your website, for example the domain of this website is...
https://www.money-with-a-website.com.
Your domain name can be whatever you want it to be, it does however have to be relevant to your website's topic. Try to include one of your main website keywords in your domain name.
I explain keywords later on through this website...
Choosing a domain name isn't hard but its important that you take a few minor steps before registering.
You can find detailed instructions on the steps you should take before registration and some of the top recommendations of domain name registrars at my page registering domain names.
Finding a HTML and website editor.
Findiing a HTML editor or website builder can sometimes be quite a tough task as there are so many editors out there and who knows which one to choose....
Most professional website builders build their websites using html editors and their very own favorite graphic building and designing software, with programs like dreamweaver, which can be expensive but worth it.
Though, not everyone has that kind of money to spend on a website editor and to be honest the free html editors are just as good as the ones you have to pay for...
So no need to worry I will recomended you with some of the top FREE html editors for how to build a website, that I personally use and are great to work with.
You can find links for download on this page free html editors and free website builders.
Website Hosts
Choosing a website host is another difficult task to take as there are so many hosts to choose from.
When you are going to buy something... you will find that you really want to make the best decision possible and not to waste any money at all.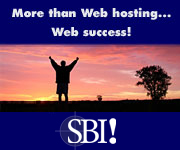 Remember if you are here to build a website that creates an income then you do need to invest, as I always say that "you cannot make money without investing"..
How much you are prepared to invest is totally up to you.
It really can be a tough decision sometimes.....
Hopefully, I have found the perfect solution to that problem by recommendations of the top website hosts on the net.
Including SiteBuildIt who teach you everything on how to build a website and much more.
These website hosts are not your regular website host they provide you with the top tools and resources on the net.
Want to read the reviews of the top website hosts? Click here.
Planning and Selling Your Content
If you have chosen your host and your website editors.
Congratulations you have now completed the first few steps and are on your way to building a great website.
The next part is
planning your content and selling your content.
You need to make preparations for your niche's content and how you are going to sell it.

Also if you still haven't chosen your "perfect" niche then this page will also help you on making that decision. Click the link above to visit the page "Sell Your Content".
Web Design Help
I found a really neat website that has resources for web design and much more that you should all check out. Houston-Websites.com offers website and design tools for the Do-It-Yourselfers!